Shoe:Nike Romaleos 4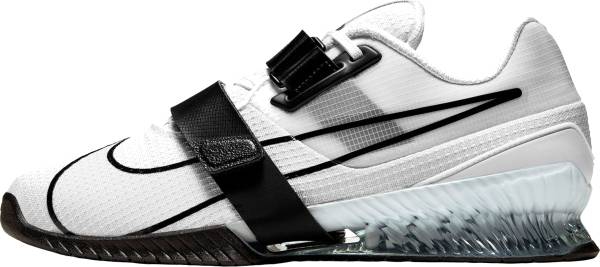 Category- Olympic Lifting Shoe
Weight-Men's (US10) 20.1oz
Heal to Toe Drop: 20mm
Cost- ~$200
Pros:
Extremely stiff which provides optimal conditioning for heavy weight lifting
20 mm heel raise, allows for "mobility" at the ankles, which most people lack, allowing for the ability to complete deep squats
wide base of support
2 straps to lock down the foot
Rubber outsole for great traction
Cons:
Some reviews I have read have complained about its comfort
Comparable shoe:
Adidas Powerlift 4
Reebok legacy Lifter
Who are the Nike Romaleos 4 good for?
This is for the competitive power and olympic lifters. These shoes offer the stiffness and heel height that are good for absolutely nothing besides when you are doing heavy lifts. If you are a casual gym goer these are most definitely unnecessary especially at the $200 price point. However, if you are trying to increase your lifts, these are a game changer.